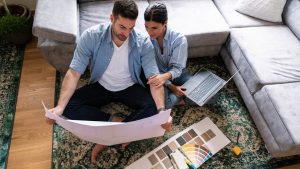 First-time homebuyers may assume that once they purchase their home—an expensive feat these days—they are done bleeding money. However, they may not be properly budgeting for common home improvement projects, which can be substantial.
Many Americans are underestimating the price of many popular home improvement and maintenance projects, such as installing new windows, doing the landscaping, and painting the interiors, according to a recent HomeAdvisor, powered by Angi, survey. And that's likely becoming a bigger problem as labor shortages, global supply chain snafus, high inflation, and the rising costs of building materials are delaying projects and causing them to cost significantly more than they did before the COVID-19 pandemic.
Continue the Article Here: The Price Is Wrong: Many Underestimate These Home Improvement Costs
It can be daunting to think about a purchase as large as a home, then think about budgeting for improvements. Be careful! Consider using a contractor or trusted home inspector to participate in a walk through prior to making an offer. If you have questions, we are here to help! Reach out to [email protected] – she has flipped multiple homes and can be a great asset on your home buying journey.