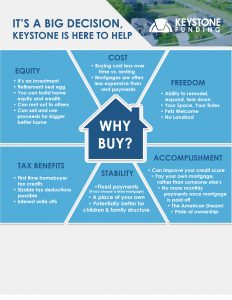 Why Buy?
Equity – It's an investment. You can build home equity and wealth through real estate. Why pay rent to a landlord? It can be your retirement nest egg! You can sell later and use the money to buy an even bigger home.
Tax Benefits – You may get first-time buyer tax credits. You could get tax deductions during tax time. Write off interest!
Cost – Buying costs less than renting over time. Mortgages are often less expensive than rental payments. Interest rates are crazy low – as low as 2.5%! Take advantage!
Freedom – It is your home. Remodel, renovate, hang pictures, paint. Your space your rules! Pets! Pets! Pets!
Accomplishment – Pay your OWN mortgage instead of someone else's. The American Dream! Pride!
Stability – Fixed payments for 30 years! A place of your own – no landlord telling you to move. Potentially better for children & family structure.
There are so many reasons to purchase a home for yourself and these are just a few. If we can help you buy a home in the Northern VA market, please contact us at 571-306-2508 or [email protected]ndco.com.
IMPORTANT: Buying soon? Please reach out to our lender partner, Keystone Funding, Natasha Lawrence for questions on preparing yourself to purchase. She can help you with credit repair, create a strategy to purchase in 6-12 months, or get you pre-approved to buy in our current market. You MUST have a local lender partner to help you get to the closing table. Most sellers won't accept your offer if you are using a bank or credit union like USAA or NFCU. Even BofA or Wells. If you want your offer accepted, get a local partner to ensure you can compete in the marketplace. Natasha can be reached at 703-895-1089 or [email protected] or apply today at https://www.keystonefunding.com/natasha/.
Follow us on Instagram @leanneandcompany!
Looking for a cool vacation spot a few hours away – check out our OBX home on Instagram @thesaltysoulobx. Rental through Airbnb.