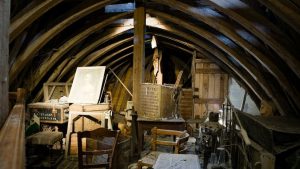 No matter how organized you are, there are certain types of clutter that are almost impossible to purge—even for professional organizers.
Often these are dark, less-trafficked areas of the home such as attics, basements, or garages. Decluttering these spots often falls dead last on everyone's to-do list, and even the experts often let these messes slide.
"I'd call these spots 'lower priority' since I'd rather spend my organizing time and decorating budget on the parts of my home where I spend time and that I enjoy every single day," says Darla DeMorrow, author of "Organizing Your Home with SORT and SUCCEED."
Still, cleaning up these last holdouts can be particularly satisfying since it's a sign you truly have your house in order. And if you're hoping to sell your home soon, it's a must. Curious where these clutter traps are hiding? Here are a few that you (and even professional organizers) may have, and how to purge them for good.
Continue Reading the Article Here: 5 Types of Clutter Even Professional Organizers Have in Their Attics, Basements, and Beyond
We all have spent so much time at home the last two years and you may be thinking of selling this spring. I would highly encourage you to begin organizing and tossing now to be prepared for a smooth sale. I work hard to make the selling process as seamless as possible for my clients. Please consider me if you are selling this spring, I'm available!